Marble Polishing
ICleaning is Singapore's leading provider of marble polishing and care services. A popular choice for home décor, marble tiles on floors and other surfaces have a natural beauty and glamour that shines through most environments, making them the center of attention.
However, nothing escapes the ravages of time. Without proper care and maintenance, the once-beautiful marble tiles eventually decay and erode away, losing much of their natural luster. This is not a problem for us at ICleaning. We can help you bring it back to its original glory and make it shine!
ICleaning uses state-of-the-art tools which are needed to repair and restore marble surfaces. After doing an examination of your marble surface, we can recommend the best form of restoration, so as to remove any scratches, erosion, decay and other damage done to the marble. We also remove any stains created on the marble surface, such as coffee and wine stains, rust, and many more.
Once the cleaning process is complete, ICleaning can help recommend methods to make your marble last longer as well as protect it against future damage. This is because we believe in long-term service and support of our clients, in order to help them maintain and clean their interiors with minimal fuss.
Marble Polishing's Job Scope
| Serial No | Packages Available | Prices(S$) |
| --- | --- | --- |
| 1 | per square foot | S$ 1.30 – S$ 1.90 |
| 2 | Stain Removal | S$ 50.00 – S$ 300.00 |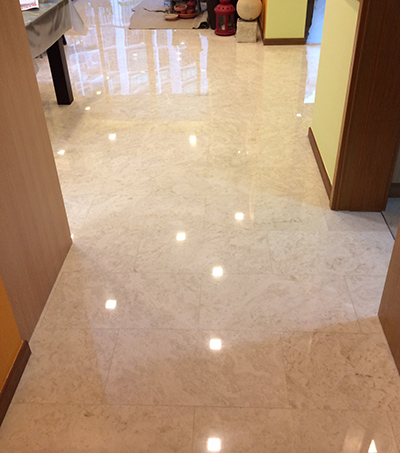 Advantages of marble flooring:
1.   Durable – Marble flooring is well known for its long life span unlike
2.   Resistant to bacteria – Marble flooring is highly resistant to any type of bacteria and particles.
3.   Easy to clean – Marble flooring seldom retain dirt and dust. Spillage of food or drinks should be attended to immediately to prevent blemishes on your flooring.
6 Valuable features to know on marble polishing process in order to obtain the best result
1.   Polishing Marble Floor Without Checking Quality Of Marble
Using a normal polishing method for cultured marble will produce a bad result even after premium polishing because the technique do not match with the surface of the marble.
2.   Stains Removal Before Polishing
Marble floors are highly porous in nature. Most homeowners proceed to polish without having a detailed look at whether there are visible stains on the marble floor. The result will look more evident even after polishing if the stain is not removed completely.
3.   Cleaning The Stained Are A With A Soft Wet Cloth
After the removal of the stained, use a soft wet cloth to clean the surface of the stained area before proceeding to polish the floor. This will ensure you maintain a smooth surface on the marble.
4.   Use Appropriate Cleaner For Marble Floor
Do not use any other type of liquid cleaner for marble floor. Use only those that are specifically for marble flooring. By using the correct marble liquid cleaner, it can have the best quality results on your marble floor.
5.   Employ Advanced Dry Cleaning Techniques
Your marble flooring will look perfect with shiny looks. The results are the use of an effective dry cleaning technique that is helpful in making the looks permanent.
6.   Use A Premium Quality Sealant To Prevent Future Stains
Having the polishing done in the right manner along with the advanced dry cleaning process is not enough. The use of a sealant will help you in securing your marble floor from stains for an extended period of time.